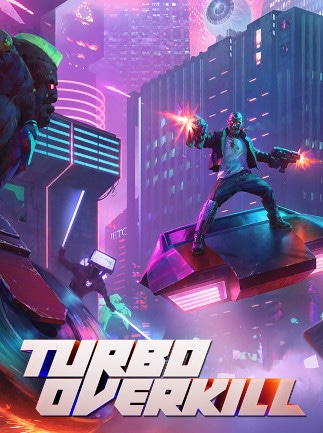 Trigger Happy Interactive
Apogee Entertainment
What would you do if you find that everyone in your city has been turned into violent half-cybernetic war machines, bent on taking over the world for a malicious artificial intelligence called Syn? As a cyborg with a chainsaw hidden in your leg and missile launchers up your sleeves, you'll fight your way through the streets and take back the city. Blasting your way through hordes of enemies to put an end to the AI's plans once and for all! 
Turbo Overkill is simply a love letter to the 90s. It's a first-person shooter that mimics what computers were capable of back in the early days of 3D accelerator cards while adding some modern touches like reflections and proper environmental lighting. The level design, brightly glowing power-ups, colour-coded keys, jump pads, and a huge variety of ways to blow up your enemies just screams mid-90s shooter. Playing this early access game over the last few days really brings back memories of playing Quake, Unreal tournament and Duke Nukem 3D for the first time.
Continue reading "It's Frantically Fun with Turbo Overkill Early Access in Review"