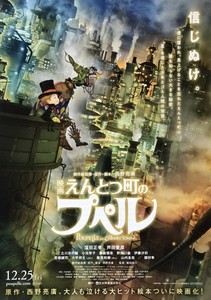 Eleven Arts
STUDIO4ºC

Poupelle of Chimney Town will soon hit in cinemas nationwide (USA) and into other territories starting December 30, 2021! Please check local listings for locations in the Pacific Northwest (USA) in the first week of the New Year, and stay tuned for Canada.
This film based on the bestselling picture book by internationally known Japanese comedian and illustrator Akihiro Nishino made its English World Premiere at the Animation Is Film Festival in Los Angeles and it continues to screen at film festivals so it can qualify for the Academy Awards in 2022.
"We are very proud to bring Poupelle of Chimney Town to North American audiences. It's an incredibly impactful animated feature that audiences will relate to and be deeply moved by," said Ko Mori, CEO of Eleven Arts.