There's a fair number of animated films in 2023 worth checking out, and like my other lists about what's new for this year, they are not limited to one platform. That is, these works are are coming to theatres, will be streaming or are direct to video releases. Also, I'm not limiting my list to mostly Stateside made works, either.
One movie that still hasn't gotten a full wordwide release is Legend Quest: The Origin. It's available in its native country to stream, but as for finding it elsewhere, hopefully, some distributor will pick it up. I adore this Mexican franchise and the Netflix series that's available world-wide is not enough. Hopefully, it will get better distribution because it deserves not to be restricted to fans living in Mesoamerica.
Not on the list is Unicorn Wars because it's getting specialised screenings. It's staggered release can be confusing, and I'm only listing films that are coming out worldwide on the same date.
Listed in chronological order are:
We Lost Our Human (Netflix)
Jan 1
This interactive film is a comedy adventure that explores a classic sci-fi concept I seem to recall seeing in an old Twilight Zone episode. This work hasn't been released to all territories yet, but I'm excited. Here, a cat named Pud and a dog named Ham wake up to find all humans have disappeared from Earth, and the adventure comes from searching for where they've gone.
New Gods: Yang Jian
Jan 20
After Nezha Reborn, Yang Jian may well be the next hero to show the rebirth of the old gods in a new world. They will have to face familiar threats. He'll have to find a lost relative in the technologically advanced world of China, but as for what else is going on, the wait won't be long for this movie's release.
For more information, please read the post I wrote last month about it.
The Amazing Maurice
Feb 3
This adaptation of Terry Pratchett's novel of the same name should be a crowd pleaser, and it should do reasonably well when it hits theatres next month. This film features an all-star talent pool featuring Hugh Laurie, Emilia Clarke, David Thewlis, Himesh Patel, Gemma Arterton, Hugh Bonneville and David Tennant. If that's not enough, then I don't know what will draw kids into watching this film. Technically, it's more of an adult work.
And as for whether this fat cat and the rag tag rat team can deal with a threat to their livelihood to make ends meet, it seems other humans have plans which aren't good.
Mummies
Feb 24
There's been a handful of television series featuring Egyptian mummies as heroes rather than villains in the animated front. Sadly, none of them have stood the test of time, and as for whether this latest will work depends on whom you ask. The character design is familiar, and fans of Tad the Explorer are more likely to love this work since Juan Jesús García Galocha is the creative producer for both.
The premise concerns mummies revived in the modern day after one of their treasures got stolen. They want their treasure back.
Batman: The Doom That Came to Gotham
Spring 2023
This direct to video release may well be a play on H.P. Lovecrafts The Doom That Came to Sarnath, and when Mike Mignola wrote this adventure in 2015, it's safe to say it'll get turned into a movie. Not a lot of detail is revealed about this coming release, and I don't want to spoil this horror action adventure.
All that I can say is that this Elseworlds adventure suggests all is not right in this city circa 1920.
The Super Mario Bros. Movie
April 7
Although the Internet was up in arms with Chris Pratt as the voice of Mario, this movie can't be any worse than the live-action film from long ago. There've been many successful-animated series featuring this plumber, and perhaps that should've been the plan when Nintendo was considering expanding his influence to other mediums.
In what we know about this film so far is that Illumination (Minions) is doing the work to bring this world to life, and Aaron Horvath and Michael Jelenic (Teen Titans Go!) are directing. Other talents that will be providing their voice are Anya Taylor-Joy as Princess Peach, Charlie Day as Luigi, Jack Black as Bowser, Keegan-Michael Key as Toad, Seth Rogen as Donkey Kong, Fred Armisen as Cranky Kong, Kevin Michael Richardson as Kamek and Sebastian Maniscalco as Spike.
Spider-Man: Across the Spider-Verse
Jun 2
This highly expected sequel will have many fans having high expectations. Not only does it need to live up to what the first film represented in its design, but also need to advance the relationship between Miles and Gwen forward. The ambition put into the work is said to be enormous, since other reports mention how it'll unite all the various works released prior.
Also, the writing team of Phil Lord, Christopher Miller, and David Callaham said their tale can't be told in one film. Thankfully, with the pandemic somewhat put behind us, what's offered will be released one year after another instead of making fans wait.
Elemental
June 16
This movie resembles the effort from PIXAR's Inside Out, and in a city where fire, water, land and air residents live together, just what kind of mayhem they can produce has me curious. The tale concerns a fiery young woman and a go-with-the-flow guy learning something about each other rather than why they are complete opposites. Anyone who knows alchemy will find the concept amusing, and I'm ready to see how this movie will play with those concepts.
Ladybug and Cat Noir: The Movie
July 5
I'm thinking this work will finally see the two leads finally make their relationship official to the world, and the fact it's a musical will have many viewers curious. It's the perfect genre to get them to sing it, instead of saying can you tell me, once more, with feeling?
There's not a lot of information about this film at present, and I'm hopeful some movement will be made to bring the two heroes closer.
Teenage Mutant Ninja Turtles: Mutant Mayhem
Aug 4
With Seth Rogen and Evan Goldberg involved in producing, perhaps the team that's assembled to develop this film can get the concept right. Perhaps it's best to stick to the basics the creators Kevin Eastman and Peter Laird envisioned. They are teenagers having to deal with not only growing up, but also face a threat to their livelihood under the sewers of New York. Not a lot of information is available at present about this movie, but it's under my radar because I've enjoyed all the iterations of TMNT over the years.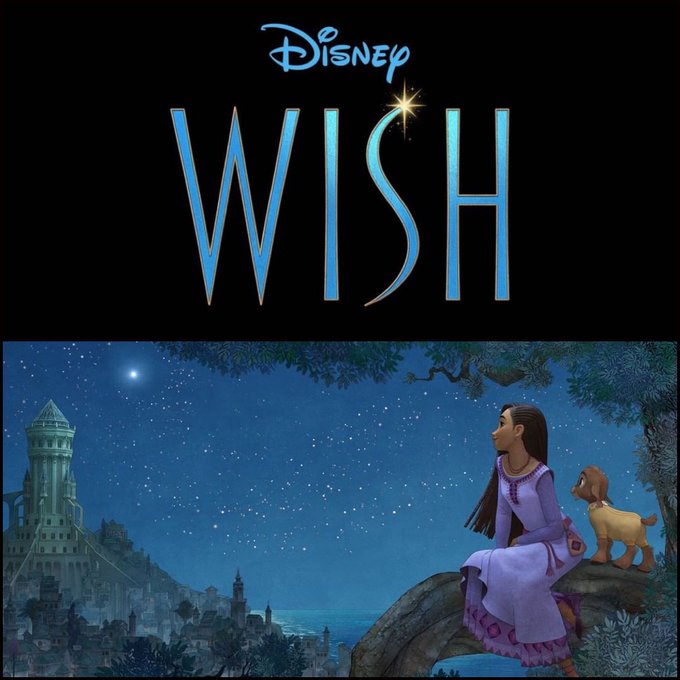 Wish
Nov 22
There's some promise to what Disney has in mind for their next work, and at first I thought it'd be a play on a classic song lyric from Pinocchio, "When you wish upon a star, it Makes no difference who you are…"
My guess is that Asha, a young woman from the fictional kingdom of Rosas, got more than she really wanted. And when a magical power grants her fondest desire, problems are going to arise, and the two will have to face a foe that's said to be the most formidable in this studio's catalogue of villainy. No, that's not Stitch, but I'd laugh out loud if he makes an appearance.
The Monkey King (Netflix)
TBA
Stephen Chow will never tire of producing "The Monkey King." After his stint in the role in A Chinese Odyssey, this CGI update will please, and it has a huge cast of talents to support it. This film features the talents of Jimmy O. Yang, Bowen Yang, Jolie Hoang-Rappaport, Jo Koy, Ron Yuan, Hoon Lee, Stephanie Hsu, Andrew Pang, Andrew Kishino, Jodi Long, James Sie and BD Wong.