By Ed Sum
(The Vintage Tempest)
To find upcoming showtimes, please visit the official website here.
Steampunk may simply be characterized as Victorian age sensibilities with technology powered by steam, but there's more to it than just that. The literary worlds of Jules Verne and H. G. Wells are just one example of what this genre represents. Another is in how it invites the imagination to ponder alternate possibilities if western civilization went a different way.
The documentary, Steampunk Connection, made its world premiere at Fantasia Fest 2019 on August 1st, 2019 and it describes this genre as a fictitious, futuristic trope that gives us the means to question today's technological revolution by comparing it to an obsolete technology of a bygone era.
Director Annie Deniel offers a fascinating glimpse into this community which spans five different countries–Canada, USA, Luxembourg, Austria and France. Each city has their hardcore group of cosplayers, inventors and everyday people who love this genre. This film is about them and why they embraced this aesthetic. Conventions exist worldwide, and it's terrific to see the comaraderie that goes on. Sometimes it even trickles into their everyday life.
François Bonneau loves building models, Tisha Goshen is a cosplayer, and Daniel Proulx creates jewelry. Alexandre Adam is known as Professor Baron Celsius Von Fahrenheit, and he's a presenter at many a convention. Diana Pho loves this genre, and she says it's rare to find folks from other nationalities interested since Steampunk is coloured by Victorian age sensibilities. Africans do not get the respect they deserve and Asians are stereotyped. Thankfully, none of that carries over to the Steampunk culture. Everyone is welcome!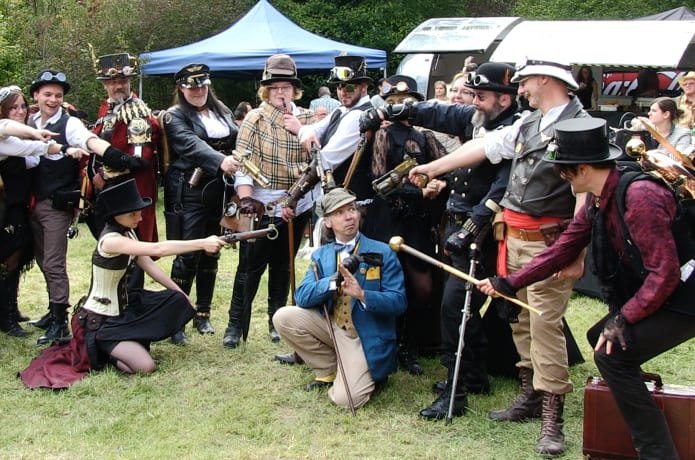 Even issues like LGBQT is explored, which makes this documentary stand out. Also included is the artistic and philosophical merit of why this genre is so loved. Since this documentary explored the people, the creators are not forgotten either. Perhaps because of budget and the amount of red tape involved, to interview any of them would have been difficult. They are at least acknowledged in a huge title card, which has listed all the major contributors to this subgenre. To name a few Hayao Miyazaki (Castle in the Sky Laputa), Terry Gilliam (1884), and Guillermo del Toro (A Killing on Carnival Row) stood out. With televised works, I'm hoping Deniel is not thinking of the terrible move adaptation. Not deeply addressed are comic books. I hoped Joe Benitez's Lady Mechanika and Phil Foglio's Girl Genius would get some kind of mention as both are long-running series.
Steampunk Connection is a near-perfect primer to the genre. Who knows, perhaps Deniel might develop a part two, because the wealth of what this subculture offers is many layers deep. I know a few things in the sequential art and cinema world, but when there's a lot more beyond Fritz Lang's Metropolis in the latter, the sky's the limit and yes, the world can be saved by steam!
4 Stars out of 5