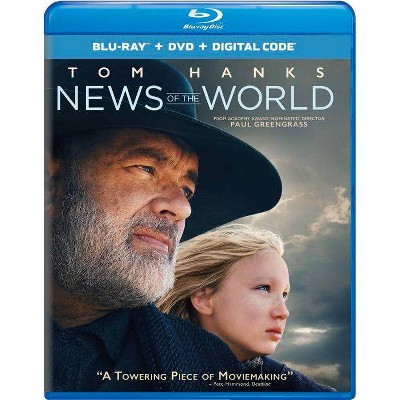 By Ed Sum
(The Vintage Tempest)
Universal Studios Entertainment
Spoiler Alert
Sometimes no news is better than fake news in the one subplot featured in Paul Greengrass's movie, News of the World. The film is imbued with a subtle reminder of race relations while life in the wild west was hard. The Civil War is over, and people are still trying to figure out what side they are truly with. The collision between the cowboys, indians, and immigrants makes up one layer of this movie adaptation of Paulette Jiles' novel of the same name. Another is about the journey of one very lonely individual.
Captain Jefferson Kyle Kidd (Tom Hanks) is a Confederate veteran of the US Civil War, and after losing this battle, he has no reason to fully live. To make ends meet, he travels from town to town to offer his services as a town crier of sorts. He reads the local paper out aloud in town halls, to deliver the news to those who can't read. Plus, he hasn't seen his wife in years. Hanks' performance makes me wonder if Kidd is kidding himself about his occupation. He sees home as a disease. Johanna (played by Helena Zengel), to whom he has to deliver to her next of kin, proves to be more of a boon than a bane of his life.
The individual transporting her was murdered because he was a person of colour, and she somehow survived by being raised by wolves. No time frame is given to explain how long she's been out in the wilds. Apparently, her family was in good terms with the local Indian tribe and she became fluent in their language at some point. These details are better explained in Jiles book since she introduces this girl's life first.
Ultimately, this story is about these two individuals bonding. The role of the Kiowa tribe is very secondary. More respect is paid in the featurette on the home video release on explaining their importance to the narrative, but as for this film, it's a hit and miss exposition.
I particularly enjoyed the orchestration behind this movie. Composer James Newton Howard gives fans what they want: powerful resonant pieces to put viewers into this world. Greengrass, better known for the Bourne films, delivers a film which recalls The Searcher and True Grit. The bonus features reveals this director has a love for the genre, and the movie certainly delivers with all the necessary tropes intact!
I believe this movie is about Kidd's depression getting the better of him. He's on the road a lot to hide from what he can't bear to be around. Ultimately, it's the girl who helps lift his spirits. Kidd can feel happy instead of hiding behind the curtain. He can move on, with no dead weights in tow.
4 Stars out of 5