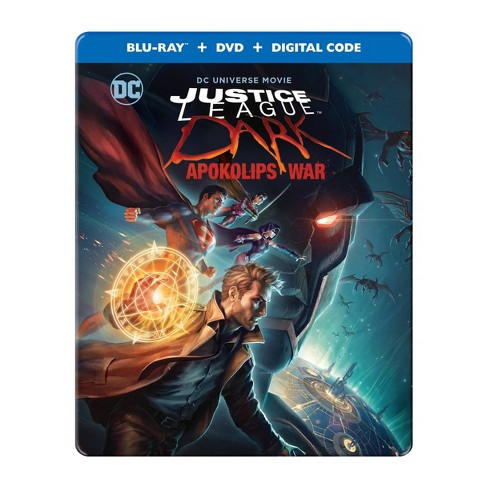 The six-year animated journey that began with Justice League in 2014 is headed towards a war with Justice League Dark, Apokolips War. However, jumping in to this last film in this DC Animated universe story arc may have a few viewers confused if they have not been keeping tabs on all the films released in between. Flashpoint is very important in the grand scheme of things.
To say which battle is better, Infinity or Apokolips since comparisons are the fuel for nerd arguments has me believing Darkseid is far more powerful. The swing of Thor, hence causing that version of the story to head in the direction that it did. Going back in time or visiting the Lazarus Pit are two methods to bring back the dead.
An all-star cast is behind voicing the superheroes. We have an ensemble of Matt Ryan (Constantine), Jerry O'Connell (Superman), Taissa Farmiga (Raven), Stuart Allan (Robin), Jason O'Mara (Batman), Rosario Dawson (Wonder Woman), Shemar Moore (Cyborg), Christopher Gorham (Flash), Rebecca Romijn (Lois Land) and Rainn Wilson (Lex Luthor). They all deliver their all, but I found Tony Todd doesn't quite deliver as the warlord, Darkseid. He's tonally better in Transformers: The Fallen but the despot doesn't have the appropriate zen, and the battle he craves is something I'd imagine the Kurgan from Highlander would want. Clancy Brown was Lex in a different interpretation of the series, but somewhere in the casting of the heroes, the production team decided to go for a different direction.
When there's more magic than might in dealing with this threat, especially with Constantine in a pivotal role, I expected more than one sorcerer to be involved. Zantanna and Raven figures into the tale a lot deeper than I realized, and I wondered if Dr. Fate (he's hard not to miss) was not included on purpose.
Justice League Dark is much more fun when trying to figure out how some character arcs are finally wrapped up. Lex Luthor redeems himself as a hero even though he's generally considered a bad guy; he has his reasons for working with the League. For Batman, raising Damian Wayne throughout these films comes to the perfect end–or rather full circle. Seeing the Caped Crusader possibly break his one golden rule, to never kill, really is the highlight.
The violence found in this latest DC animated universe has been upped and makes for a very Resident Evil type of spectacle. Without revealing too much, Darkseid earns his keep when several heroes are "turned." Plus, collateral damage is everywhere and the injury proves to be more emotional than physical to deal with. Those scars are far worse and run deep than in any of Disney/Marvel's products, the animated universe included! We'll never see Marvel Zombies on the big screen. While we can still hope for the Zack Snyder cut of Justice League, I doubt even that take can be as bleak as this war.
4 Stars out of 5