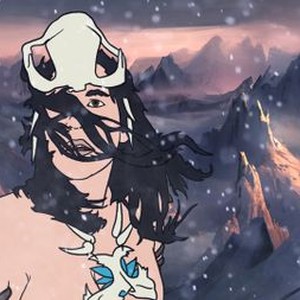 By Ed Sum
(The Vintage Tempest)
Fantasia Film Festival 
RJLE Films

Coming to Shudder Network
Limited Theatrical Screenings Q4
Usually wearing a twig or a leaf is not enough to protect a person from harm. But when you're Tzod (Lucy Lawless, Xena: Warrior Princess), and you know this plant has mystical properties, I suppose it's okay to wander the world mostly naked. Thankfully this animated movie inspired by Frank Frazetta and Ralph Bakshi takes its cues elsewhere as it's very ambitious in its scope, and is not scared of getting bloody that'd make Conan the Barbarian mutter, "Crom," as wannabe kings and corrupt soldiers of fortune seek out The Bloom. With this plant, they can rule the world.
The Spine of Night bestows untold power and protection. Not everyone can lay claim to it, and nor can just anyone wear it as a badge of honour than emblem of power. Tzod is trying to protect it, and is laying as low so nobody can track her. Perhaps that's why we see her in some strange outback, climbing up hills and poking her head in places faraway from humanity until she can find shelter. However, there's another resident in the cave she found. The Guardian (Richard E. Grant, Withnail & I), is inquisitive, and asks why she's here. Tzod explains, and that's where the real stories unfold.
Of the five tales, framing narrative included, the stand out is with the mythic origin about mankind being rejected by mad titans. Its David vs Goliath tale uses bold blacks to represent humanity against the electronic blue tattooed titans (gods), and a battle reminiscent of Zack Snyder's 300. aesthetic. Plus we also get a lot of retro nods throughout the tales. I'm fairly sure they range from Eiichi Yamamoto's Cleopatra to Heavy Metal the Movie to Bakashi's Lord of the Rings. I'd say the artistic tribute is very well done. 

But as a niche product, the question to watch or not to watch is hardly the question. It's whether there'll be more from the filmmaking team of Morgan Galen King and Philip Gelatt as they said this film took more than three years to produce! I doubt the stories featured in this work is enough to reveal all those individuals who've sought out this plant. As civilizations rise and fall, so can when this flora grow and die in mysterious cycles like a certain Disney film (Jungle Cruise). I'd love to see or read more about The Bloom's prehistory.
If its even possible to continue this anthology as a graphic novel or comic book series, I'm all for it. But we'll have to wait for King and Gelatt to make a formal announcement. For now, they deserve a break, until the thrall of the Bloom wants to flourish again…

4 Stars out of 5