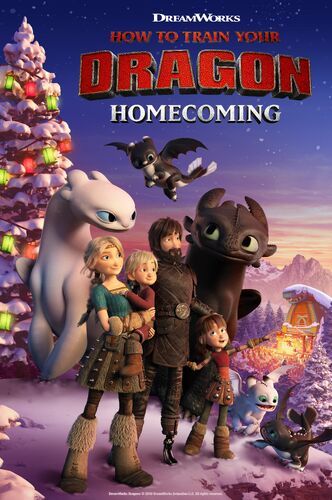 By Ed Sum
(The Vintage Tempest)
DVD Release Dec 3rd
NBC Broadcast Dec 14th, 2019
After Thanksgiving is celebrated in the United States of America, a "homecoming" is set for How to Train Your Dragon fans. I'll be headed to my local Walmart to buy the Bluray and hope there'll be more than just this animated short. On Amazon, apparently only the DVD release is available.
To see Astrid, Toothless and gang continue to celebrate the yuletide season can mean anything for this aspect of the franchise. This work looks like it'll reflect upon those wonderful memories in lest we forget. It's safe to assume the team will get together again.
Jay Baruchel was not necessarily hiding anything either when he was making his farewells to a character that defined part of his on screen life. This animated short may well have been made way before this actor bade farewell and etc during the promotions of the third film earlier this year. Whatever the case, we can thrill to these misadventures for at least a few more years, no matter what the form this franchise takes–Rescue Riders included.
This holiday season, reunite with Hiccup, Astrid, Toothless, Light Fury and all your friends on the Isle of New Berk in this all-new CG animated adventure based upon the critically acclaimed How to Train Your Dragon film trilogy from DreamWorks Animation. Starring the vocal talents of Jay Baruchel, America Ferrera, Gerard Butler, Craig Ferguson and Christopher Mintz-Plasse among others, the story centers around Hiccup's plan to celebrate dragons with a grand holiday pageant at the Snoggletog Festival. This heartwarming idea leads to a series of unexpected, hilarious and thrilling events — but no matter what happens, everyone in Berk is reminded that dragons and humans are forever bonded.
Trailer
(Uploaded by Anibox Trailer Access to Youtube)