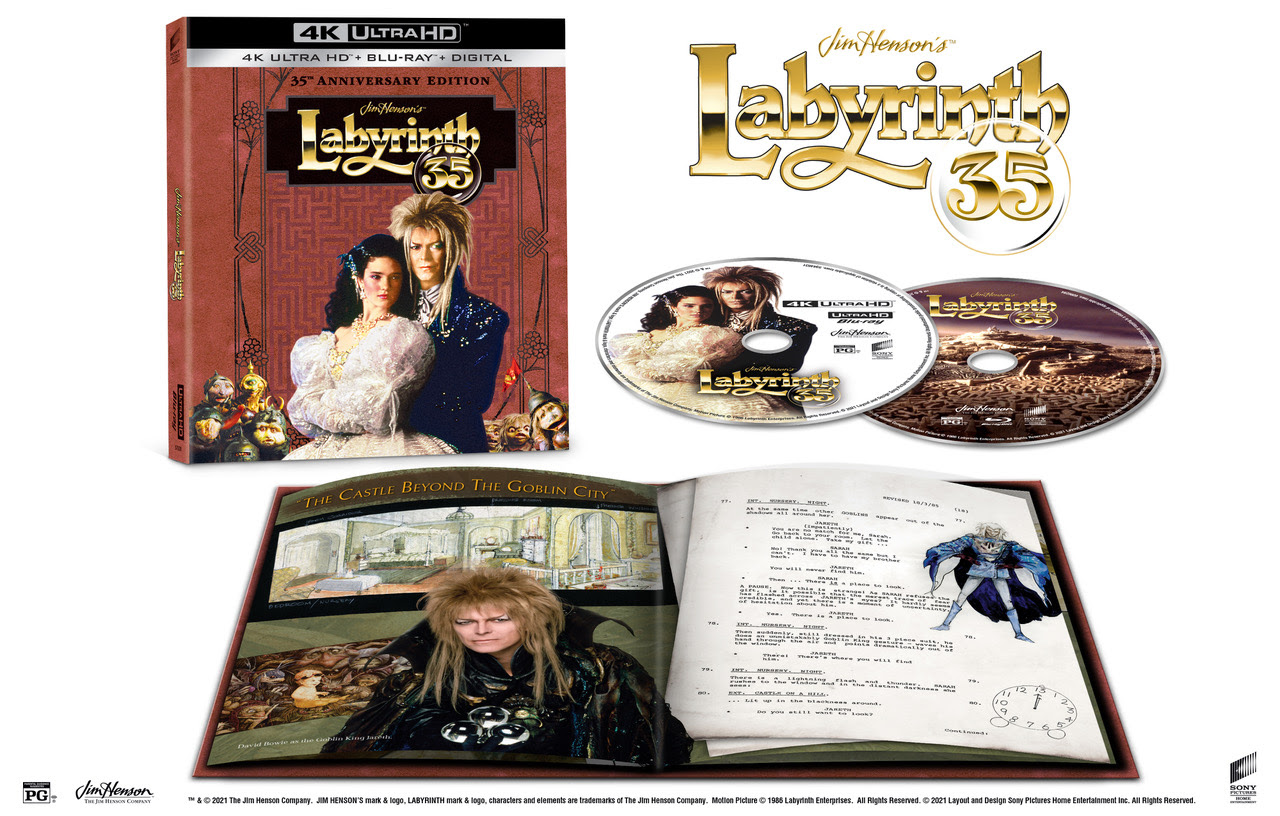 Fans of David Bowie can rejoice! Not only are we getting a proper transfer of the film to this ultra high definition format instead of a downscaled version from the last release, but also there's new material to look at! Just how limited this release will be depends on whether box stores will carry it or one has to order from Amazon USA (link provided here). If anything, here's the breakdown of the contents!
SYNOPSIS
From visionary filmmaker Jim Henson comes the unforgettable fantasy favourite LABYRINTH, now celebrating its 35th anniversary. A 16-year-old girl (Academy Award® winner Jennifer Connelly, Best Supporting Actress, A Beautiful Mind, 2001) is given 13 hours to solve a dangerous and wonderful labyrinth and rescue her baby brother when her wish for him to be taken away is granted by the Goblin King, played by the iconic David Bowie.
DISC DETAILS & BONUS MATERIALS
Limited edition collectible set presented as a 28-page Digibook—featuring rare artwork, photography and early script pages, all from deep within the Henson Archives—styled to resemble Sarah's book of The Labyrinth from the film.
4K ULTRA HD DISC
Feature presented in 4K resolution, with Dolby Vision
Dolby Atmos audio + 5.1 audio + original theatrical 2-Channel Surround audio
Special Features:

NEW: Deleted & Alternate Scene Oubliette

Over 25 minutes of never-before-seen lost and alternate scenes, with all-new commentary from Brian Henson!

NEW: Sarah's Screen Tests

A collection of rare, original screen tests for the role of Sarah! Featuring Molly Ringwald, Trini Alvarado, Tracey Gold, Claudia Wells, Jill Schoelen, Maddie Corman and Danielle von Zerneck
BLU-RAY DISC™
Feature presented in high definition, sourced from the 4K master
Dolby Atmos audio
Special Features:

"The Henson Legacy" Featurette
Labyrinth Anniversary Q&A
"Remembering The Goblin King" Featurette
The Storytellers (Picture-in-Picture)
Commentary by Conceptual Designer Brian Froud
Original Making-of Documentary "Inside The Labyrinth"
"Journey Through the Labyrinth: Kingdom of Characters" Documentary
"Journey Through the Labyrinth: The Quest for Goblin City" Documentary
Theatrical Trailers
CAST AND CREW
Directed By: Jim Henson
Story By: Dennis Lee and Jim Henson
Screenplay By: Terry Jones
Produced By: Eric Rattray
Executive Producer: George Lucas
Cast: David Bowie, Jennifer Connelly, and dozens of creatures from Jim Henson's Creature Shop™
SPECS
Run Time: 101 Minutes
Rating: PG
Feature Picture: 2160p Ultra High Definition, 2.39:1
Feature Audio: English Dolby Atmos (Dolby TrueHD 7.1 Compatible) | English, French (PAR) 5.1 DTS-HD MA, English 2-Channel Surround DTS-HD MA, Spanish 5.1 Dolby Digital